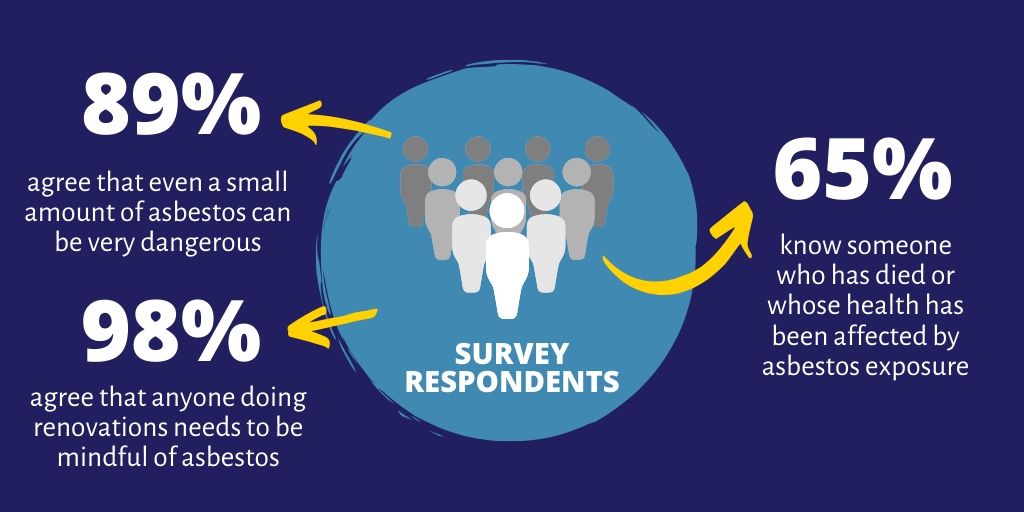 Thank you to everyone who participated in the survey, your time in providing valuable feedback is highly appreciated.
Executive Summary
The Latrobe Valley has long been linked to asbestos, with power stations primarily built using asbestos containing materials (ACMs) and consequently, many power station workers succumbing to asbestos related diseases.[1]
Of the survey respondents, nearly two in three (65%) have known someone who has died or whose health has been affected as a result of asbestos exposure.
Correspondingly, there is a high level of awareness of asbestos and asbestos related issues in the Latrobe Valley:
87% agree that asbestos is very common in Australian buildings
89% agree that even a small amount of asbestos can be very dangerous
98% agree that anyone doing renovations needs to be mindful of asbestos.
The two most highly rated concerns regarding asbestos are the health impacts and the illegal dumping of asbestos.
Home renovation is a popular activity, with 95% respondents indicating they have undertaken home renovations including as DIY home renovators:
68% reported that they have undertaken renovations on properties built prior to 1990
74% report that they would do at least some of the work themselves in a kitchen or bathroom renovation.
Many (39%) are confident in their own ability to identify asbestos containing materials but only 29% have had any formal training.
In the DIY home renovators section, two-thirds (67%) of the respondents report that they have undertaken home renovations in the past three years. Of concern is the 36% that undertook a risk of asbestos exposure assessment themselves, without engaging professionals.
While there is high level of agreement among DIY renovators that in principle, a licensed removalist ought to be engaged, almost 1 in 5 (19%) report having done the work themselves. Reasons for doing so include believing they had the skills/knowledge to remove asbestos properly (57%), and to save money (37%).
Two out of five (43%) DIY renovators surveyed intend to do renovations in the next 12 months comprising either internal or external works or both.
Overall, both sections of the survey reveal a demand for increased education, more accessible and low-cost disposal options, and greater levels of regulation and compliance.
[1] Begg, S., Vos, T. and Stone, C., Mesothelioma as a marker for asbestos-related lung disease in Victoria. Health of Victorians, The Chief Health Officer's Bulletin., 2001. 1: p. 10–12.