Minimising risks of asbestos exposure and associated harm in Victoria
Recommendations of the Latrobe Valley Asbestos Taskforce
Summary
Safeguards have been in place for workers since occupational health and safety legislation was introduced in Victoria many years ago. The identification of asbestos in the workplace, and how it is recorded, managed, removed, transported and disposed of has been regulated and enforced by WorkSafe Victoria and the Environment Protection Authority (EPA) to minimise exposure to asbestos fibres and reduce environmental pollution. However, the same regulatory protections are not afforded to people in their homes.
According to the World Health Organisation, there is no known safe level of asbestos exposure.[9] Exposure to asbestos fibres can lead to premature death from diseases such as asbestosis, lung cancer and mesothelioma, as well as severe health impacts from pleural disease. As asbestos-containing materials are coming to the end of their product life, they are naturally degrading and releasing microscopic asbestos fibres that can cause serious harm. The often repeated refrain of 'It's fine as long as you don't touch it' is also past its use-by date and efforts need to be made to add '…and it is maintained in good condition.'
While traditionally asbestos has been thought of as a construction/workplace issue, what we are facing now is the realisation that the greatest risks of asbestos exposure today are to be found in our homes. Alarmingly, many people aren't aware of the severe health risks, and the boom in do-it-yourself home renovations means that people are unwittingly exposing themselves, their families and their neighbours to deadly asbestos fibres.[10] As stated by the then-State Coroner Graeme Johnstone in 2004, the year in which asbestos was banned nationally, "unless well managed, the asbestos product lying dormant in many homes, has potential to effect the long-term health of many Australians and create a significant, ongoing, economic and social burden."[11]
In 2018, The economic burden of asbestos-related disease report [12] prepared for ASEA, found that in Australia, the annual costs to the health system for asbestos-related disease was estimated at $192 million, with associated productivity losses for patients and carers estimated at $321 million. This estimate is believed to be conservative, as not all asbestos-related diseases are recorded as they have been for mesothelioma since 2010 in the Australian Mesothelioma Registry [13], and further, not all deaths where the underlying cause has been due to asbestos-related disease are reported on death certificates. Not included in these estimates were factors such as the burden of associated mental health costs for sufferers, carers and families, and the costs of managing the ongoing asbestos governance and various reporting frameworks. A report on the economic burden of asbestos-related disease and health system impacts in Victoria is due to be completed before the end of this year.
We need to find ways to deal with the legacy of the massive consumption of asbestos-containing products that saw Australia identified as the highest post-war consumer per capita nation of anywhere in the world.[14] Asbestos was widely regarded as a wonder product due to its fire-resistant properties, its durability and its ready availability; so much so that following bushfires in the mid-20th century, some local planning schemes in Victoria mandated the building of homes only with asbestos cladding. Coastal areas also have many homes with asbestos sheeting as it was a very cheap building material – in short, it is found nearly everywhere.
In a study undertaken by the Taskforce across the municipalities of Baw Baw Shire, Latrobe City and Wellington Shire, a total of 5,010,652m2 of legacy asbestos-containing material was estimated to be remaining in the built environment. As shown in Figure 1 below, there is much more in our homes (3.1 million m2) than in all other buildings combined (1.89 million m2).[15]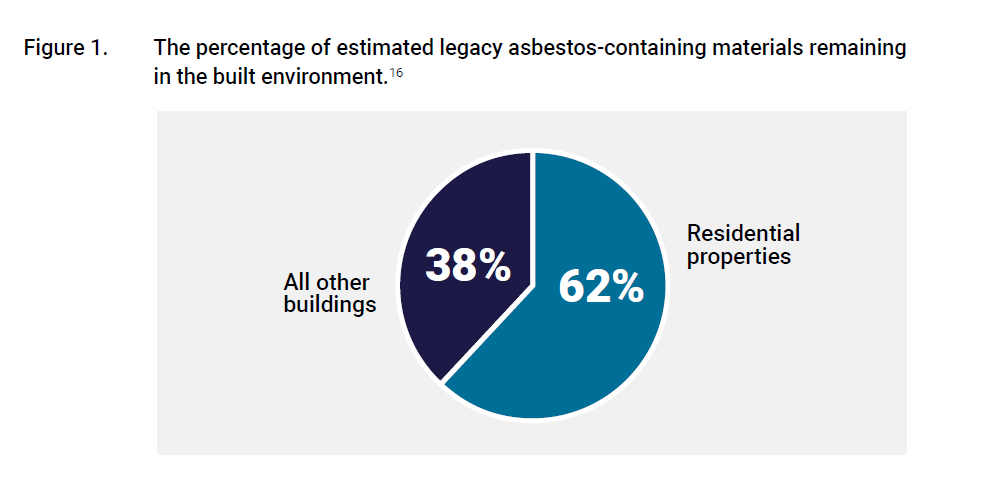 Asbestos was used in over 3,000 products, and it is estimated that asbestos is present in one in every three Australian homes.
[17]
Long latency periods have led to a common misconception that asbestos exposure poses little risk and asbestos-related disease 'only happens to old people.' In fact, latency can be anywhere from 10 – 50 years.[18] In Victoria this year, a 16-year-old girl was diagnosed with mesothelioma, believed to be the youngest person ever to be diagnosed with mesothelioma in Australia. Callie (not her real name) has never had a job, visited a work site or lived in a home that was undergoing renovations; as a baby/very young child she has simply been exposed to asbestos fibres in her home environment.
"Thanks to asbestos, we now live an extremely isolated life trying to keep my daughter alive during all of her treatments. It's not a straightforward cancer — it's horrific and the toll it takes on her body — the trauma! And I have other children who I am watching like a hawk now — waiting, terrified they will also get this disastrous diagnosis."
Mother of 'Callie', 16-year old Victorian diagnosed
with mesothelioma
Today, we are left with the enormous legacy of a natural, but deadly material. There are many Victorian legislative instruments used to manage asbestos, however the complex arrangements in the main only provide asbestos restrictions for industry and business. There is no single authority responsible for the legacy asbestos in our homes.
We need to ensure the entire community is aware of the serious health effects and risks of asbestos exposure, that regulatory bodies including local governments have the tools needed to maximise enforcement and compliance, and that maintaining, managing, removing and disposing of asbestos-containing materials does not put anyone in harm's way, whether in their workplace or in their home.
When the Taskforce began its work in 2019, four key themes emerged and have continued to hold true:
Victorians aren't aware of the serious health effects and risks of
asbestos exposure.
People don't know where to go for help.
The access to safe and affordable asbestos removal and disposal is
limited.
All levels of government need to do more to address the management
of legacy asbestos in Victorian communities.
The following set of recommendations are provided in response to the key themes identified above, and are about the prevention of disease and ultimately, about saving lives.
9 "there is no evidence of a threshold for the carcinogenic effect of both chrysotile and amphibole forms of asbestos." Outline for the Development of National Programmes for Elimination of Asbestos-Related Diseases 2007. World Health Organisation. https://apps.who.int/iris/handle/10665/69693
10 Asbestos Safety and Home Improvement Research prepared for the Asbestos Safety and Eradication Agency 2021. SEC Newgate Research
11 Coroner's Record of Investigation into the death of Christian Armand: Asbestos exposure at work and in do-it-yourself home renovation 2004. Victorian State Coroner
12 The economic burden of asbestos-related disease prepared for the Asbestos Safety and Eradication
Agency. 2018. Centre for International Economics
14 Preparing an estimate of the national pattern of exposure to asbestos in cases of malignant mesothelioma 2008. Australian Safety and Compensation Council, Australian Government
15 Estimating the volume of legacy asbestos in non-residential properties across the Latrobe valley region — a Model 2022. Latrobe Valley Asbestos Taskforce. https://www.asbestostaskforce.net/publications/
16 This does not include energy generation facilities and other large industrial plants.