Executive Summary
The Latrobe Valley has long been linked to asbestos, with power stations primarily built using asbestos containing materials, as well as workers' housing for State Electricity Commission employees, and also for other industries such as Victorian Railways. Consequently, many people in the Latrobe Valley have succumbed to asbestos related disease.[1]
As detailed in a recent study published by the taskforce,[2] it was also common for planning schemes in the mid-20th century to mandate the use of asbestos cladding for the rebuilding of properties following bushfires. Due to its widespread popularity as a building product, it is thought that Australian homes built between 1940 and 1990 are very likely to contain asbestos.
Today there continues to be a high level of awareness of asbestos and asbestos-related issues in the Latrobe Valley:
88% agree that asbestos is very common in Australian buildings
83% agree that even a small amount of asbestos can be very dangerous
96% agree that anyone doing renovations needs to be mindful of asbestos.
The two most highly rated concerns regarding asbestos are illegal dumping and the health impacts of asbestos exposure.
In 2019, 37% were concerned about asbestos in power stations, however this has now fallen to 20%. It is noted that a large program of asbestos removal works was undertaken in 2020 at Hazelwood power station and is now almost complete. Another likely factor for this decrease could be the small sample of respondents aged over 65, which is 6% compared to 20% in the 2019 survey.
The over-65 age group is more closely linked to asbestos-related diseases, due to the long latency period between exposure and diagnosis, and therefore the assumption follows that this group is more aware of cases arising from workers in Latrobe Valley's power stations.
It is acknowledged that the significant decrease in the number of respondents aged over 65 is likely to have a bearing on all areas of the survey, as this age group is more likely to have been involved in home renovations in their lifetime, know more people with asbestos-related disease, and therefore have a greater understanding of the risks of asbestos exposure and higher awareness levels of asbestos-related issues.
This survey has returned a figure of 37% who said they have known someone who has died or whose health has been affected as a result of asbestos exposure. In the 2019 survey, this was 65%. Another factor may be the higher number of respondents who have never either lived or worked in the Latrobe Valley; up to 14% from 6% in 2019.
While almost one third (31%) of all respondents are confident in their own ability to identify asbestos containing materials, only 22% have had any formal training. Over half (56%) have been involved in renovations on properties built before 1990 and 73% state they would do at least part of the work in a kitchen or bathroom renovation themselves.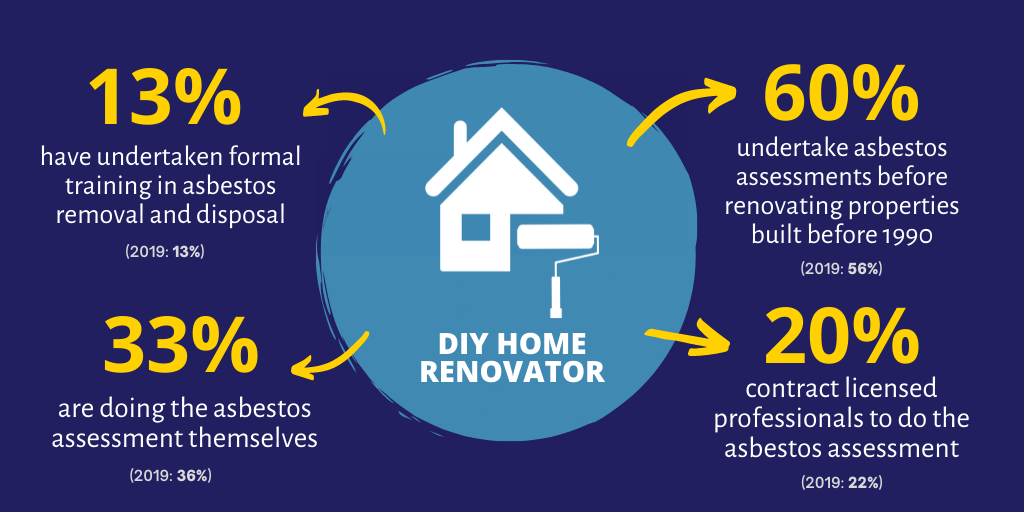 In responding to the questions about home renovations, 61% completed this section of the survey, with more than half saying they had undertaken home renovations in the past three years, and one in five saying they intended to undertake renovations in the next 12 months.
With regards to home renovation works recently completed, there has been a decrease in the number who undertook a risk of asbestos exposure assessment themselves, instead of engaging professionals. This figure has gone from 36% in 2019 to 15% in 2020, which can only be viewed as positive. However, 9% are still doing asbestos removal themselves. Reasons for doing so include believing they had the skills/knowledge to remove asbestos properly (30%), and to save money (50%).
Overall, the survey reveals similar trends that were identified in the 2019 benchmark survey: the identified need for increased education and awareness, more accessible and low-cost disposal options, and greater levels of regulation and compliance.
---
[1] Begg, S., Vos, T. and Stone, C., Mesothelioma as a marker for asbestos-related lung disease in Victoria. Health of Victorians, The Chief Health Officer's Bulletin., 2001. 1: p. 10–12.
[2] Estimating the volume of residential asbestos remaining in the Latrobe Valley, 2020. https://www.asbestostaskforce.net/publications/